Invisalign is the Comfortable Way to Achieve a Spectacular Smile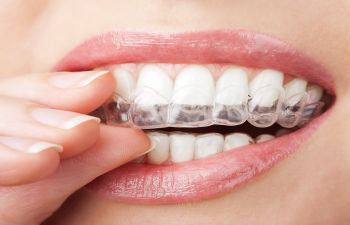 Invisalign® makes achieving a straight smile easy and comfortable. You discreetly work toward a spectacular smile through a series of custom-made, removable, transparent orthodontic aligners. The aligners gradually and painlessly move your teeth, and most people will never even notice that you are wearing them.
A nice smile can change your life, so Invisalign from Feather Touch Dental Care is clearly a wise investment for you or your children. Anyone (at any age) can use these clear braces and benefit, as long as they are fully committed to wearing the aligners for 22 hours a day.
The Invisalign Process
Invisalign aligners are like retainers. They are made of a smooth, flexible plastic (SmartTrack®) – no brackets, wires or complicated parts involved. They are a single, thin appliance that fits snug to your teeth and feels comfortable against your gums, cheeks and lips.
During your initial consultation, Dr. Donald Ross and Dr. Neal Shah will evaluate your smile using digital 3D scanning and make a personalized Invisalign treatment plan, which involves a series of aligners created specifically for your mouth.
Thanks to the advanced technology, you can view the entire orthodontic journey – from aligner to aligner – and see how nice your smile will eventually look.
From there, the process is mostly in your hands (although we will monitor your progress). You will periodically switch your aligners (as directed) to progress toward a straighter smile. It is far more convenient than visiting the orthodontist every few weeks to have your braces tightened!
Additional Benefits of Choosing Invisalign
You will not need to restrict your food choices. Since the aligners are removable, you can take them out when you eat.
Brushing and flossing your teeth remain uncomplicated. Again, you can take the aligners out during your oral hygiene routine.
Studies have shown that Invisalign users have a reduced risk of gum disease compared to those that undergo traditional treatment (metal braces).
Invisalign will not leave white spots on your teeth like metal braces sometimes do. This is because aligners do not require bonding, which can cause calcium deposits (demineralization) that weaken and stain teeth.
Invisalign treatment can include porcelain veneers and teeth whitening. You can use the aligners to apply our professional take-home whitening gel to your teeth, brightening your smile by several shades.
You save time with half the dental visits. Invisalign treatment requires progress checks every six to eight weeks instead of three to four with traditional braces.
Dental Issues Correctable with Invisalign
You can use Invisalign if you have the following dental conditions:
Mild and moderate bite issues (overbite, underbite, crossbite and open bite)
Crowding and spacing issues (overcrowding or gaps)
If you have severe bite issues, the highly-experienced dental team at Feather Touch Dental Care will guide you through additional corrective options. You may have to achieve your straight smile by other means.
Scheduling an Appointment with Feather Touch Dental Care
If you are ready to find out if you or your children are a candidate for Invisalign clear braces, contact our office to schedule an appointment. It is the first step toward that life-changing spectacular smile!
Posted on Behalf of Feather Touch Dental Care
Posted on behalf of Feather Touch Dental Care
1175 Peachtree St NE Ste 1204, Building 100
Atlanta GA 30361
Tel: