Are You Suffering From "Mask Mouth?"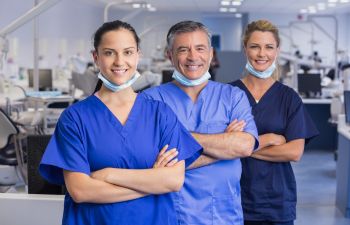 2020 has brought in a whirlwind of chaos and issues that no one ever expected to deal with. With terms like "mascne" and "mask mouth" being created to define conditions associated with mask-wearing, it is no wonder people are already counting down to 2021. As troublesome as things have been for millions of Americans this year, at Feather Touch Dental Care, we want to help you stay extra diligent about your oral health care.
"Mask mouth" is a new dental condition that is directly associated with mask-wearing. There are specific issues that occur when people wear a mask for longer than 15 minutes at a time. Dentists nationwide are treating patients with excellent oral health records who are now suffering from severe bad breath, tooth decay, gum disease, and gum recession. While this blog is not a debate about whether you should wear a mask or not, it is to provide helpful information so that you can protect your smile. It is important to be aware of how "mask mouth" develops so that you can take measures to prevent it.
Dry mouth. Covering the mouth for long increments of time increases dryness in the mouth. When the mouth is dry, it leads to a buildup of bacteria that attack the teeth and gum tissues.
Mouth breathing. Wearing a mask limits your air supply. After about three minutes, most people wearing a mask will begin breathing through their mouths because they are trying to compensate for the lack of oxygen. Mouth breathing causes dry mouth and leads to a decrease in saliva production. Saliva is an essential component of your oral health because it helps wash away bacteria from the teeth and gums, and it also neutralizes acids inside the mouth. Without sufficient saliva production, the teeth and gums are exceedingly vulnerable to decay and inflammation.
Dehydration. Most people do not drink enough water as it is, and when the mouth is covered, they are likely drinking even less. Dehydration can cause serious health issues that affect the entire body, including oral health problems.
If you feel the need to wear a mask or you are required to do so, our entire team at Feather Touch Dental Care wants to encourage you to take steps to avoid "mask mouth." We encourage you to chew sugar-free gum and drink water as frequently as possible throughout the day to keep your mouth moist. If you have questions or concerns, please contact our practice today.
Posted on Behalf of Feather Touch Dental Care
Posted on behalf of Feather Touch Dental Care
1175 Peachtree St NE Ste 1204, Building 100
Atlanta GA 30361
Tel: