Candidates for Zoom!® Teeth Whitening Treatment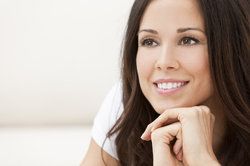 Of all the flaws that can detract from a smile, discoloration is the most common complaint. Whether stains are mild or severe, most people would readily accept a whiter smile if given the right opportunity. For many, that opportunity is available in the form of a single, simple cosmetic dentistry procedure. Professional teeth whitening can remove the most common types of stains without any significant risks, making the benefits of treatment appealing to many patients.
When you visit our Atlanta dental office for whitening, you can expect treatment of the highest quality via Zoom!® teeth whitening products. Refer to the following information to find out if you're a good candidate for this effective procedure.
What Can Whitening Treatment Solve?
Before choosing teeth whitening as a viable solution to your discoloration, it's necessary to identify the type of discoloration present. There are essentially two types of tooth discoloration: intrinsic and extrinsic. Even though professional whitening procedures are stronger and more effective than over-the-counter products, they are still only truly beneficial for extrinsic stains.
Extrinsic discoloration, or surface staining, is most often the result of food and drink, with tobacco use being another potential factor. These stains are located within the tooth's enamel, and can therefore be reduced or removed through whitening gel that is absorbed by enamel. Surface stains are by far the most common type of discoloration, and are most often responsible for a smile that has yellowed over time.
Intrinsic discoloration, or deep staining, can be caused by multiple factors. These include medication, injury, disease, erosion, and fluoride overexposure. Such stains tend to appear as smaller but more discernable areas of discoloration, and cannot usually be treated through whitening gel.
By visiting your dentist, you can better understand the nature of your stains and form accurate expectations about potential treatment options.
Candidates for Whitening Treatment
If your smile suffers from extrinsic staining and you would like to reduce the visibility of these stains, Zoom!® teeth whitening is likely a good procedure for you. This treatment is especially well suited for patients who do not suffer from any other cosmetic flaws, and who have strong, healthy teeth.
Because whitening poses no long-term risks and is non-invasive, most patients can safely undergo treatment with little concern. However, whitening does result in heightened tooth sensitivity, and some patients may want to consider this beforehand. If you already have sensitive teeth or thin enamel, speak with your doctor about what to expect after treatment. Such patients may want to use a lower concentration of bleaching agent or a more gradual treatment timeline. Special toothpaste and desensitizing gel may also be utilized to curb the side effects of teeth whitening.
As with any cosmetic procedure, candidates should also have accurate expectations for treatment. While teeth whitening can dramatically improve the shade of a smile, patients should not expect their teeth to remain that shade forever. Hygiene and dietary habits may result in future stains, and even with consistent visits to the dentist, no smile can be expected to become perfectly white.
The Risk of Erosion
If you have recently undergone a full whitening procedure, you may be asked to wait a while before having your teeth whitened again. When used correctly, whitening gel poses little risk to teeth. However, multiple successive treatments will weaken enamel, resulting in gradual erosion. This exposes the underlying dentin tissue, causing teeth to become weakened, sensitive, and dark in color.
If you already have eroded enamel, teeth whitening may not be the best treatment for you. Porcelain veneers or dental bonding can present better alternatives, especially since these restorations are applied over the surfaces of teeth, thus protecting underlying tissue. Speak with your dentist for more information about the advantages and disadvantages of each cosmetic option.
Come In for a Consultation
A strong and beautiful smile is within your reach. Schedule a consultation at our office to learn more about teeth whitening or our other treatment options. With the right procedure, your smile can be vastly improved for years to come.
Posted on behalf of Feather Touch Dental Care
1175 Peachtree St NE Ste 1204, Building 100
Atlanta GA 30361
Tel: