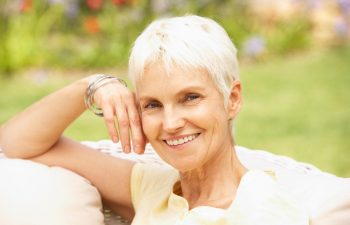 Proper dental care is important at every age, but especially in our senior years. Seniors are at greater risk for developing oral health issues, but practicing good dental habits can prevent many of the dental health issues that are associated with advanced age. Proper at-home care and professional general dentistry services can help maintain the health of your smile. To learn more about dental care for seniors, schedule a consultation with Atlanta dentists Neal Shah and Donald Russ. In the meantime, follow these senior dental care tips and treatments to help keep your oral health on track.
Dental Care Tips for Seniors
Proper dental care is a lifelong commitment. Though patients who have taken good care of their teeth since childhood are less likely to have major dental problems, it's never too late to practice proper dental care. Here are some dental care tips to help you maintain a healthy smile:
Brush at least twice a day: Brushing the teeth can prevent tooth decay and gum disease. Brush the teeth at least twice a day for a full two minutes at each brushing. Be sure to brush well along the gum line and the back teeth.
Floss everyday: Flossing is one of the most effective ways to prevent gum disease. Floss at least once a day, every day.
Replace your toothbrush every three months: Toothbrushes should be replaced every three months to ensure effective brushing.
Rinse with an antiseptic mouthwash: Rinse with an antiseptic mouthwash to reduce the risk of gum disease.
See your dentist for regular check-ups and cleanings: See your dentist for regular check-ups and cleanings at least once every six months. Regular dental exams are important for catching damage at the earliest stages while professional cleanings help reduce plaque and tartar build-up.
Don't neglect denture care: If you have dentures, it's important to practice special care. Avoid brushing your dentures with toothpaste because it may be too abrasive. Instead, use a denture cleaner or mild dish soap for your dentures, and use toothpaste to brush your tongue and gums.
Popular Treatments for Seniors
Even with proper dental care, it's not uncommon for seniors to experience general dental wear. Fortunately, there are many treatments that can restore teeth affected by general wear or more serious issues. Popular treatments for seniors include:
Teeth whitening: Dental discoloration is a normal part of the aging process. Teeth whitening treatments can help remove years of dental stains to reveal a rejuvenated smile.
Porcelain veneers: Porcelain veneers are tooth-shaped restorations that can be used to mask worn teeth, as well as address dental shape and size.
Dental crowns: Dental crowns are useful for restoring the appearance and function of broken or otherwise damaged teeth. Dental crowns can help save damaged teeth from requiring extraction.
Dental implants: Dental implants offer permanent replacement of missing teeth. They can be paired with dental crowns, bridges, or dentures for secure tooth replacement.
Root planing and scaling: Gum disease is common in seniors. Root planing and scaling treatment is highly effective at eliminating gum disease and restoring oral health.
Schedule a Consultation
To find out which treatments are right for you, we welcome you to schedule a consultation with Drs. Shah and Russ today.
Posted on behalf of Feather Touch Dental Care
1175 Peachtree St NE Ste 1204, Building 100
Atlanta GA 30361
Tel: