Don't Like Needles? That's Ok! We Have A Little Something To Help With That!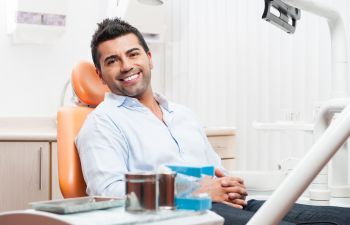 If you have a level of dental anxiety, you're not alone. Many people who enter the dental office struggle with different levels of fear. Our dentists at Feather Touch Dental recognize that this is a common problem and we offer many treatments and environments that help give every patient a sense of calm and peace when in our office.
One common fear that many patients deal with is the fear of needles. If this is you, we have a solution. The first thing you need to do when you enter our office is let us know how you're feeling. Our dentists are empathetic to your concerns and want to hear how you're feeling. After you let us know how you're feeling, you can rest assured that you are in good, caring hands during your dental appointment.
If you require an injection during your visit we offer the DentalVibe system. This technology allows us to administer the anesthesia you require with virtually no pain or discomfort to you.
How DentalVibe Works
DentalVibe works by stimulating several of your senses. The DentalVibe wand gently vibrates the treatment site, stimulating the nerves that register pain. When the vibration on injection sensations occur at the same time the vibration reaches the brain first and essentially blocks the feeling of the infection from being perceived by the brain. 95% of the patients that have experienced the DentalVibe system say that is has changed their view of visiting the dental office.
Don't let your fear of needles keep you from getting the dental treatment you need or want. Call and book your dental appointment today.
Posted on behalf of Feather Touch Dental Care
Posted on behalf of Feather Touch Dental Care
1175 Peachtree St NE Ste 1204, Building 100
Atlanta GA 30361
Tel: