Fall Dental Exams for Kids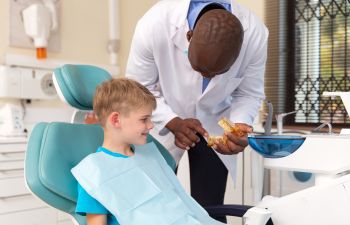 Whether your child has returned to the classroom or is continuing education through the virtual classroom, now is a good time to have a pediatric dental checkup. Many school districts require returning students or those new to the district to have medical and dental exams before returning to the classroom or within the first few weeks of school. Regardless of whether or not this is a requirement for your child, it is a good idea to have a dental checkup at the beginning of the school year for a number of reasons.
Save Time and Money
Prevention is the best way to ensure that your dental bills are kept low. Healthy teeth and gums cost a lot less to maintain than diseased teeth and gums. When school is in session, trips to the dentist can take valuable time away from learning and school activities. When your child's teeth and gums are healthy, only the one trip for preventive care – a thorough oral examination and professional dental cleaning – is needed.
If needed, your child can also receive instruction on how to brush and floss effectively to keep their teeth and gums healthy. This trip is also a good time for you to have your questions about your child's oral health answered.
Establish Good Oral Health
Starting kids off early in life with regular dental checkups is a way to cultivate a relationship with the dental team that is positive. When it comes to children, preventive care also helps in building a strong base for lifelong attention to good oral health. When good oral health is achieved and maintained, you can be sure that your child will want to keep their teeth and gums in good condition. Once this is established, it is more likely to continue into adulthood. After all, if you have managed to make it through to adulthood with minimal dental problems, you will want to keep that clean track record.
Dental Sealants for Extra Protection
When your child's molars begin to erupt, usually at ages 6 and 12, they can be vulnerable to tooth decay. This is because the chewing surface has deep grooves and fissures to help grind and mash food. Bad bacteria can accumulate in these areas and cause cavities to develop. Dental sealants prevent this from happening.
Dental sealants are a liquid-like composite resin that is brushed onto the surface of the teeth. The sealant runs into the crevices and grooves, providing a protective layer which, if maintained, will prevent cavities from developing. Sealants can last for many years, although they may need to be replaced if worn down.
Dental problems cause millions of school hours to be missed every year. They also cause millions of children unnecessary pain and discomfort. Keep your child from missing out by scheduling the back-to-school dental checkup with Feather Touch Dental Care today.
Posted on Behalf of Feather Touch Dental Care
Posted on behalf of Feather Touch Dental Care
1175 Peachtree St NE Ste 1204, Building 100
Atlanta GA 30361
Tel: