Feather Touch Dental Care – A Dental Office That Looks At A Glass As Half Full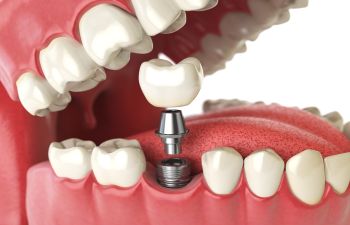 "I am an optimist. It does not seem too much use being anything else." – Winston Churchill
At Feather Touch Dental Care, we like to look at the bright side of things. When we look at your smile and dental health we see the good things you have going for you. We examine your teeth for trouble spots and figure out ways to leverage what you do have to replace or restore what might be missing.
We have patients that come to us with missing teeth at times. This can be a result of injury, genetics or a variety of other reasons. When we see this, we search for a way to resort the health and aesthetics of your teeth and smile by using what you have.
In the case of a missing tooth, we can use a modern replacement technique called dental implants. These are small titanium posts that offer you unmatched stability for your replacement teeth by mimicking your natural teeth's roots. You can read more about dental implants as explained by the American Dental Association here.
Using What You Have
Dental implants utilize the healthy parts of your mouth to help aid in the tooth replacement process. If it's determined that your bone mass of your jaw is adequate, we can implant a replacement tooth for you. There are cases when this may not be an acceptable route if you smoke or have inadequate bone mass. However, there are options for you to perform a bone graft to fortify your jaw to accept an implant.
Contact Feather Touch Dental Care today to discover how our optimism about your dental health can help you leverage what you have and have a happy and healthy smile that you can be proud of!
Posted on behalf of Feather Touch Dental Care
Posted on behalf of Feather Touch Dental Care
1175 Peachtree St NE Ste 1204, Building 100
Atlanta GA 30361
Tel: