How a Smile Makeover Supports Your Oral Health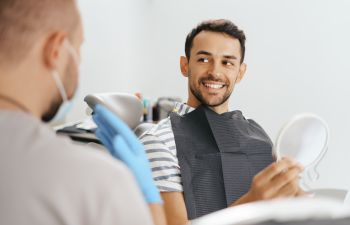 When your smile is a source of embarrassment, it can impact your confidence. This may lead to disinterest in oral health, causing you to neglect teeth and gums. If your oral hygiene is slipping, reach out to Feather Touch Dental Care for support.
We have helped countless patients regain confidence in their smiles. An effective makeover can restore, straighten or whiten your teeth. We focus on both the aesthetics and functionality of teeth and gums.
Teeth Whitening
For some patients, discoloration of teeth is a major issue. No matter how much you brush, your teeth appear unattractive. With the right whitening treatment, you can achieve the perfect smile in Atlanta, GA.
Commercial teeth whitening products are not suitable for every patient. Feather Touch Dental Care can examine your teeth to determine the cause of discoloration. We will then create a treatment plan that will produce effective results.
Orthodontics
Misaligned, crowded or crooked teeth are a problem for many of our Atlanta patients. Braces or dental aligners can offer solutions. With 3D imaging, Feather Touch Dental Care can model bones, teeth and gums. This allows us to determine which orthodontic approach will produce the best outcomes.
Some patients choose clear aligners because they offer greater comfort, flexibility, and increased confidence. These custom devices are available for teenagers and adults. Speak to Feather Touch Dental Care about orthodontics today.
Cosmetic & Restorative Dentistry
There are various cosmetic dentistry options, including porcelain veneers, gum lifts, teeth whitening, and dental bonding. We combine treatments with improving the appearance and functionality of your teeth.
Cosmetic dentistry may also include restorative treatments such as crowns, implants, or full mouth reconstruction. Combining procedures to rebuild your smile is a carefully planned process. Every makeover is different, so you will begin with a consultation with Feather Touch Dental Care at our Georgia offices.
Smile Makeover Consultation
Why not book a smile makeover consultation with Feather Touch Dental Care today? This friendly and informal appointment will restore your confidence in oral health solutions. Call today to start your journey towards a healthier and brighter smile.
Posted on Behalf of Feather Touch Dental Care
Posted on behalf of Feather Touch Dental Care
1175 Peachtree St NE Ste 1204, Building 100
Atlanta GA 30361
Tel: