Important News for Inhaler Users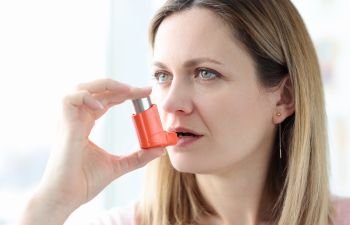 Asthma, COPD and other pulmonary issues are often treated with inhalers of some type. These medicines provide relief from symptoms of respiratory problems and in some cases, can be lifesaving. At the same time, unless you are practicing excellent oral hygiene, your oral health may be affected with their use. By following a few simple steps, you can minimize or eliminate oral health problems pertaining to inhalation therapy.
Even though inhalation therapy is considered effective for treatment of respiratory problems, high dosages and long duration of treatment have been shown to affect oral tissues. As asthma cases continue to increase, it is important that people are aware of the oral health issues than can occur with use of an inhaler.
Dry Mouth
Perhaps one of the major concerns related to oral health and inhalation therapy is the development of xerostomia, or dry mouth. This condition can cause an increase in dental caries, as well as mouth sores and gum disease, if proper precautions are not taken.
The ingredients of the inhaler can decrease the flow of saliva in the mouth. Saliva keeps the mouth at a certain pH level, provides specific minerals to help strengthen teeth, washes away bad bacteria in the mouth and helps you chew and swallow your food. When the flow of saliva is decreased, demineralization of tooth enamel increases. Plaque is more likely to build up, which increases the risk for gum disease. Another concern is the development of a yeast infection known as oral candidiasis, or thrush. The acidic pH of dry powder inhalers can also lead to erosion of tooth enamel.
Addressing the Problem
You can minimize or eliminate the oral issues caused by inhalation therapy by incorporating these tips into your oral care:
Ideally you should brush your teeth after using your inhaler; if this is unrealistic, rinse your mouth with water.
Always keep water on hand and sip it throughout the day to help keep your mouth moist.
You can suck on sugarless hard candies or chew sugarless gum to help stimulate saliva flow.
Avoid beverages containing alcohol or caffeine, as these have a drying effect on the mouth.
Brush your teeth properly at least twice a day and remember to floss between teeth.
Use anti-microbial mouth rinses as suggested by your dentist.
Restrict sugary foods and drinks between meals and avoid refined carbohydrates.
Inhalation therapy is crucial as a treatment for respiratory ailments and it does not have to be detrimental to your oral health if you are aware of the risks and take measures to decrease those risks.
Regular dental checkups are also very important in maintaining your best oral health. You can depend on the dental team at Feather Touch Dental Care to help you achieve and maintain optimal oral health. Schedule your appointment with us today for excellent dental care.
Posted on Behalf of Feather Touch Dental Care
Posted on behalf of Feather Touch Dental Care
1175 Peachtree St NE Ste 1204, Building 100
Atlanta GA 30361
Tel: