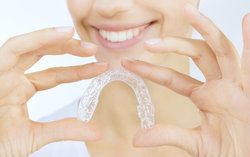 If you play sports or suffer from chronic teeth grinding, mouth guards may be right for you. Mouth guards can protect the teeth from the damage caused by teeth grinding and unforeseen sports injuries, and relieve the symptoms of temporomandibular joint (TMJ) disorder. Mouth guards can be paired with general dentistry treatments to ensure overall oral health. To find out if you would benefit from a mouth guard, we invite you to schedule a consultation with Atlanta cosmetic dentists Donald H. Ross and Neal Shah. In the meantime, read on to learn more about mouth guards.
What Are Mouth Guards?
Mouth guards are plastic trays worn while sleeping or during sports to protect the teeth from injury. Mouth guards come in a variety of options to fit the needs of each patient. Store-bought mouth guards can be worn by those who play sports. Boil and bite mouth guards allow for some customization, but do not offer the protection of custom made dental mouth guards. Those who require a mouth guard for teeth grinding or TMD issues are best served with custom-made mouth guards, which are much more comfortable for overnight wear.
Candidates for Mouth Guards
Candidates for mouth guards include anyone who participates in activities that could lead to dental injuries, those who grind their teeth, or those who suffer from TMD. Mouth guards offer many benefits, including reduced risk of dental damage, relief from TMD symptoms, and preservation of dental function and health. Mouth guards can save you money in the long run by preventing dental injuries that are costly to repair. You may be a candidate for a mouth guard if you relate to one or more of the following:
Participate in contact sports: Playing contact sports, like football, hockey, wrestling, or boxing, puts the teeth at risk of injury. Mouth guards should be worn by anyone who participates in these types of activities to protect the teeth from fracture or other damage.
Skateboarding, biking, or rollerblading: You never know when you're not going to land a jump and fall face first into a stair handrail, so those who like to do jumps or other tricks on skateboards, bikes, or rollerblades should consider wearing protective mouth guards.
Suffer from teeth grinding: Chronic teeth grinding is extremely harmful to the teeth. Constant teeth grinding creates friction between the teeth, which can wear the teeth down over time. Teeth grinding can also cause gum recession and tooth fractures. Dental mouth guards can provide a layer of protection to the teeth to prevent the damage caused by teeth grinding.
Experience TMD symptoms: For some, TMD symptoms are exacerbated by clenching the jaw during sleep. Wearing a mouth guard during sleep can prevent jaw clenching and reduce stress on the jaw, helping to alleviate TMD symptoms.
Schedule a Consultation
Mouth guards can protect your teeth and save you from requiring costly dental work. Custom-made mouth guards are comfortable and affordable. To learn more about mouth guards, we welcome you to schedule a consultation today!
Posted on behalf of Feather Touch Dental Care
1175 Peachtree St NE Ste 1204, Building 100
Atlanta GA 30361
Tel: