Porcelain Veneers Replacement – What to Expect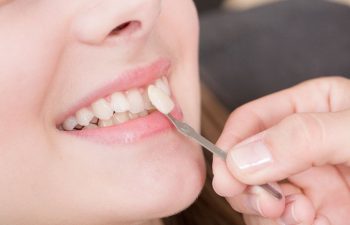 Porcelain veneers can mask dental flaws and enhance the smile's appearance for long lasting, dramatic results. Fortunately, caring for porcelain veneers is as easy as caring for your natural teeth. With proper dental care and maintenance, porcelain veneers can last well over ten years. However, eventually veneers will need to be replaced. To find out if it's time for porcelain veneers replacement, schedule a consultation with Atlanta, GA dentists Donald Ross and Neal Shah.
When Do Porcelain Veneers Need Replacement?
Veneers may require replacement if they become damaged or the health of the underlying teeth is at risk. If you experience any of the following, it may be time to replace your veneers.
Tooth decay: Although porcelain veneers cover the front surface of the teeth, decay may develop on the back of the teeth or along the gum line. If a tooth supporting a veneer develops decay, the veneer may need to be replaced in order to repair the damaged tooth.
Loose veneer: Porcelain veneers are bonded to the teeth using strong dental cement. However, over time, the bond between the veneer and natural tooth may become loose. If a veneer becomes loose, the underlying tooth is left vulnerable to decay because plaque and bacteria are able to enter beneath the veneer. In order to protect oral health, loose veneers should be replaced.
Damaged veneer: Porcelain veneers may become damaged as a result of an accident, sports-related injury, or chewing and biting on hard items, like pen caps or the fingernails. If a veneer becomes chipped, fractured, or damaged in any way, it's important to have the veneer replaced to protect the underlying tooth from damage and restore the smile's appearance.
Discoloration between natural teeth and veneer: Porcelain veneers do not discolor like the natural teeth or respond to teeth whitening, which can lead to an obvious difference in color between the natural teeth and veneers, sometimes called "technicolor teeth." If discoloration occurs, the veneers will need to be replaced to match the surrounding teeth.
Preventing Porcelain Veneers Damage
The key to prolonging the lifespan of porcelain veneers is practicing proper dental care and maintenance. Follow these tips to keep your veneers looking and functioning their best for years to come.
Practice good oral hygiene: Brushing at least twice a day and flossing at least once a day are essential for oral health and can help prolong the life of your porcelain veneers by preventing tooth decay and gum disease.
Use a soft-bristled toothbrush and non-abrasive toothpaste: Hard-bristled toothbrushes and overly abrasive toothpastes can scratch and damage veneers. Instead, switch to a soft-bristled toothbrush and non-abrasive toothpaste to protect the surface of your veneers.
Avoid chewing on hard items: Chewing on hard items, like pen caps and fingernails, should be avoided because this can cause porcelain veneers to chip.
Don't use your teeth as tools: Never use the teeth as tools; using the teeth to open packages or cut tape can cause damage to porcelain veneers.
See your dentist for regular checkups: Regular checkups and cleanings every six months allow any signs of damage to be addressed before it becomes severe.
Don't ignore signs of damage: If you notice any dental damage, like tooth decay, increased dental sensitivity, or damage to your veneers, like a loose or chipped veneer, it's important to seek treatment to prevent further damage and protect oral health.
Is Porcelain Veneer Replacement Right for You?
Porcelain veneers require regular care and maintenance, including eventual replacement. To find out if porcelain veneer replacement is right for you, we invite you to schedule a consultation with Drs. Ross and Shah.
Posted on behalf of Feather Touch Dental Care
1175 Peachtree St NE Ste 1204, Building 100
Atlanta GA 30361
Tel: