Preventing Teeth Grinding to Preserve the Strength of the Teeth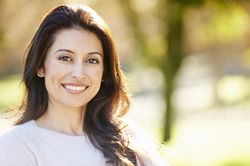 Teeth grinding is an oral habit that can be extremely damaging to the teeth. Unfortunately, because this habit is most likely to occur at night, most patients are not even aware that they suffer from bruxism, or teeth grinding. In many cases, it is not until tooth damage is noted by a dentist that patients become aware of this harmful habit. At Feather Touch Dental, we offer our Atlanta patients teeth grinding treatment so that they can combat this damaging habit and protect the teeth from further damage. We also provide restorative dentistry treatments to rebuild tooth structure and repair any damage that may have already occurred as a result of teeth grinding. By treating this damage and addressing teeth grinding so that it is no longer a problem, we can help our patients restore and maintain a strong, healthy, and attractive smile.
Preventing Teeth Grinding
When our dentists notice signs of tooth damage that point to teeth grinding, one of our first concerns is to help patients stop this harmful practice. If teeth grinding is persistent, the protective layer of enamel that surrounds the tooth can be seriously damaged. This leaves the tooth weak and vulnerable and could result in the onset of more serious oral health problems. By helping a patient to stop teeth grinding, we can maintain tooth structure and strength.
There are many possible causes of teeth grinding and, therefore, many ways to treat the condition. Depending on each patient's unique situation, we may recommend any of the following treatments:
Relaxation techniques to ease tension and relax the facial muscles
Orthodontic treatment to address any misalignment issues that may be causing teeth grinding
Treatment to address any tooth abnormalities that may be causing teeth grinding
Custom-fit dental mouth guard to be worn at night (when the majority of teeth grinding occurs)
By utilizing any combination of the above treatments, our dentists can help most patients prevent teeth grinding so that the teeth are protected from any further damage of this condition.
Restoring Damaged Teeth
Unfortunately, by the time teeth grinding is diagnosed, the teeth have usually already experienced some degree of damage. The good news is that there are many restorative treatment options that can repair this damage so that patients can enjoy strong teeth that function without pain or difficulty. Each case of teeth grinding is unique and our dentists will determine an appropriate restorative treatment based on the extent of damage that has developed. Some of the treatment options available to address tooth damage from teeth grinding include dental bonding, inlays and onlays, and dental crowns. Each of these treatments can restore tooth strength and protect the teeth from more serious damage.
Schedule an Appointment
At Feather Touch Dental, we want all of our patients to enjoy a smile that is healthy and beautiful. Harmful habits such as teeth grinding can get in the way of that goal, but there is treatment available to stop this habit and its damaging effects. If you'd like to learn more about teeth grinding treatment, schedule an appointment with one of our experienced dentists at your earliest convenience. We look forward to hearing from you!
Posted on behalf of Feather Touch Dental Care
1175 Peachtree St NE Ste 1204, Building 100
Atlanta GA 30361
Tel: