Restore Your Chipped Teeth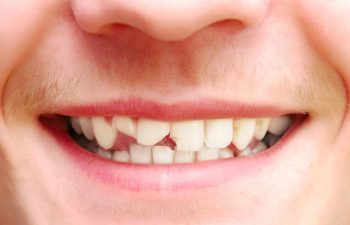 Chipped teeth affect the appearance and health of your smile. If left untreated, chipped teeth can lead to severe dental damage. Fortunately, there are a variety of restorative dentistry treatments available to repair the damage caused by chipped teeth. Cosmetic dentists Donald H. Ross and Neal Shah specialize in these treatments and welcome you to schedule a consultation to discuss which treatments are right for your needs. To undergo treatment for chipped teeth, contact our Atlanta, GA practice today.
Treatments to Repair Chipped Teeth
The teeth may become chipped for a number of reasons, most often as a result of an injury or accident.  Regardless of the cause, it's important to seek treatment as soon as possible to prevent further dental damage. Chipped teeth are particularly vulnerable to decay because the protective outer layer of the tooth, the enamel, becomes damaged when the teeth chip, allowing bacteria and plaque to reach the inner layers of the teeth. Fortunately, there are a many treatments available to restore chipped teeth and prevent further damage. Some popular treatments include:
Porcelain Veneers: Chipped front teeth can be repaired with aesthetically pleasing porcelain veneers. Porcelain veneers are thin, tooth-shaped fabrications that fit over the front surface of the teeth to repair chips and correct other dental flaws. Each veneer is custom-made to seamlessly blend with the surrounding teeth.
Dental Bonding: Similar to porcelain veneers, dental bonding can be used to repair dental chips by covering the front surface of the teeth. Instead of porcelain, dental bonding treatment uses a special putty-like resin to restore dental appearance. The resin is shaded to match the color of the surrounding teeth and is applied directly to the damaged tooth. It is then shaped and cured to provide a durable, natural looking finish.
Dental Crowns: For severely chipped or damaged teeth, dental crowns may be a suitable treatment. Dental crowns are tooth-shaped restorations that completely encase the teeth. Dental crowns help protect the teeth from further damage and can save the teeth from requiring extraction.
Onlays: Onlays, sometimes called "partial crowns," are another option for restoring chipped or broken teeth. Onlays are a good option when a tooth is too damaged for dental bonding or veneers, but not damaged enough to require a full dental crown. Each onlay is custom-made to match the surrounding teeth for a flawless finish.
Tips to Prevent Chipped Teeth
Although most chipped teeth occur unexpectedly as a result of an accident or injury, there are ways to prevent chipped teeth. You can help protect your teeth from unexpected chips with these tips:
Wear a mouth guard while playing sports: Sports-related injuries are a common cause of chipped teeth, especially amongst those who play contact sports. Wearing a mouth guard while playing sports can protect the teeth from unexpected injuries.
Never use your teeth as tools: Although the teeth are naturally durable, they aren't meant to open plastic packages or loosen glue caps. Using your teeth as tools can chip the teeth, so avoid using your teeth to open packages or cut tape.
Avoid severe fluctuations in food temperature: Extreme fluctuations between hot and cold foods and drinks can weaken the teeth over time, leading to chips or fractures. This particularly applies to teeth with silver amalgam fillings. Silver amalgam will expand and contract with temperature fluctuations, putting the teeth at risk of chipping or fracturing.
Find Out Which Treatments Are Right for You!
A healthy smile is only a dental appointment away! To find out which treatments are right for you, we invite you to schedule a consultation with Drs. Ross and Shah.
Posted on behalf of Feather Touch Dental Care
1175 Peachtree St NE Ste 1204, Building 100
Atlanta GA 30361
Tel: