The Benefits of Tooth-Colored Fillings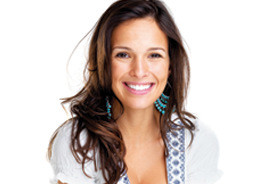 One of the most common dental problems that dentists address is tooth decay. By restoring the overall structure of a tooth that has been decayed, a cosmetic dentist is able to improve overall dental health, bite strength, and the appearance of a smile in the process.
In recent years, more and more dental health professionals have been using tooth-colored dental fillings in order to restore the health and appearance of patients' teeth. We'd like to look into these matters in brief right now.
About Dental Fillings
Dental fillings are small dental restorations that are ideal for treating cavities (aka dental caries). In the past, they tended to come in metal amalgam form, though improvements in dental ceramics have led to people using composite, tooth-colored materials for these dental restorations instead given their many benefits to patients.
The Cosmetic Problems Associated with Metal Dental Fillings
One of the most obvious things about metal dental fillings as a restorative dentistry option is that they can easily be seen. The stark dark gray color appears almost black when it's embedded into natural tooth structure, and it can make some people quite self-conscious about laughing, smiling, and normal interactions with people that they've known for years.
The Dental Health Problems Associated with Metal Dental Fillings
More important than the aesthetic issues are the dental health matters. The metal dental fillings that were used in the past often contained mercury, which is highly toxic. In addition, the dental fillings could warp slightly in extreme temperatures, expanding with heat and contracting with cold. This could result in small amounts of damage to the tooth over time.
You can see why a cosmetic and restorative dentist would be concerned about both the wellness and appearance of their patients' smiles given these issues.
Why Tooth-Colored Fillings are Superior for Dental Aesthetics
One of the most obvious advantages of tooth-colored dental fillings is that they blend in seamlessly with a tooth's natural structure. When in place, the tooth-colored dental fillings are virtually indistinguishable from the natural structure of a tooth.
Why Tooth-Colored Fillings are Superior for Dental Wellness
Unlike the metal dental fillings of the past, tooth-colored dental fillings contain no toxic materials, making them completely safe. In addition, the composite dental fillings will not warp as a result of temperature fluctuation as metal ones will.
An additional benefit of the tooth-colored fillings is that they require less removal of healthy tooth structure when prepping the tooth to receive the filling. As a general rule, the more natural tooth structure that a patient can keep, the better it is for overall dental wellness in the long run.
Other Dental Restoration Options
Sometimes a traditional dental filling will not be enough to meet the needs of a patient. That is where additional dental restoration options come into play. Inlays, onlays, and dental crowns are all great to consider for addressing more substantial cases of tooth decay. The best option for your needs will be addressed during the consultation process.
Find Out More About General Dental Care Treatment
For more information about tooth-colored fillings and your many other options for effective dental restoration, be sure to contact our Atlanta cosmetic and restorative dentistry center today. Our entire team looks forward to meeting you in person and helping you achieve the best possible dental health results.
Posted on behalf of Feather Touch Dental Care
1175 Peachtree St NE Ste 1204, Building 100
Atlanta GA 30361
Tel: