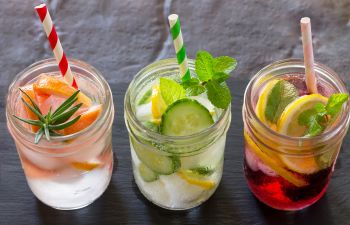 It's summertime, and it's hot. We are all reaching for cool beverages multiple times a day to cool us off and stay hydrated. Yet, what you choose to drink is important. Every time you take a sip of any type of beverage, you are bathing your teeth in that beverage. So, stop and think before you take a drink.
It is essential to understand that some drinks provide great health benefits while others can cause significant damage to your teeth. Whether you are suffering from tooth decay, gum disease, discoloration, or tooth sensitivity, certain beverages can help or hurt your oral health.
Unfortunately, the worst beverage choices you can make for your oral health are also the tastiest. That is because the sugar content that makes beverages so delicious is what causes damage to your smile. Here are the worst drink choices for your teeth:
Soft drinks – Not only are soft drinks laden with sugar, but they are also highly acidic. Soft drinks contain enamel-destroying acids and tooth-staining coloring.
Fruit juice – Don't buy into thinking that fruit juice is healthy because it contains fruit. Juice has a high sugar content, and juice such as orange juice has a high acidity level.
Alcoholic beverages – Dark wines stain the teeth, but all alcoholic beverages contain sugar and acids.
Sports drinks and energy drinks – These are laden with sugar and should be avoided as a frequent beverage choice.
*Note: if you indulge in one of these beverage choices, take the time to rinse your mouth with water after consuming. Water will help rinse your mouth of the sugars and acids. Wait at least 20 minutes before brushing your teeth.
The best choices for your smile:
Water, water, and more water. No surprise here! Water is the most abundant natural resource on the planet, and it is essential to life. Water keeps your body hydrated, contains no calories or sugar, and promotes optimal health.
Milk – Milk does a body, and a smile, good. Milk contains high amounts of calcium and vitamin D to keep the teeth healthy and strong.
At Feather Touch Dental Care, your smile is our priority. If you have damage to your smile from poor beverage choices, contact us today. We have a full menu of treatments to restore your smile.
Posted on Behalf of Feather Touch Dental Care
Posted on behalf of Feather Touch Dental Care
1175 Peachtree St NE Ste 1204, Building 100
Atlanta GA 30361
Tel: