Tooth Erosion Treatments: How to Beat Acidic Erosion of Enamel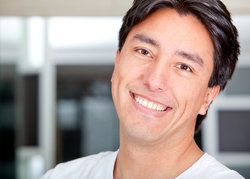 The team at Feather Touch Dental Care helps patients in the greater Atlanta area have smiles that they can feel great about. We achieve such excellent results through a combination of advanced cosmetic and restorative dentistry treatments focused on enhancing smile appearance and overall health. Much of our success is also achieved through general care and patient education.
With patient education in mind, we would like to go over the issue of tooth erosion and why patients should take it seriously.
What is tooth erosion?
Tooth erosion is also known as acidic erosion and dental erosion. It is caused by an oral pH that is too acidic rather than balanced or alkali. When this occurs, the acidity weakens and wears down the enamel layer of the tooth, which is the topmost part of the tooth structure. When weakened, the tooth reveals the underlying dentin layer and wears down structurally, causing odd tooth shape.
Note: Tooth erosion and tooth decay are different conditions.
While many people think tooth erosion and tooth decay are synonymous, there are in fact two different dental health issues. Tooth decay is caused by oral bacteria forming plaque and producing acidic substances while feeding on food particles. While both result in damage to tooth structure, the cause of this structural damage is different.
Common Causes of Tooth Erosion
The most common causes of tooth erosion include the following substances:
Carbonated beverages
Beer
Wine
Citrus juices
Vinegar
Gastric fluid
Gastric fluid refers to the stomach acid and other digestive fluids. Many times this occurs when someone regurgitates with relative frequency. In fact, tooth erosion is a common symptom associated with bulimia and alcoholism.
Signs and Symptoms of Tooth Erosion
Some of the most common signs and symptoms of tooth erosion include yellowing of the teeth (the dentin layer of the teeth is yellow in color), stubbiness or wearing down of the teeth, and tooth sensitivity.
If you should notice the above signs of tooth erosion as well as any signs of alcoholism or bulimia in a loved one, be sure to discuss these matters with that person so that he or she can get the help that they need.
Treatment Options for Tooth Erosion
When it comes to treating tooth erosion, there are different options to consider. For minor erosion that is predominantly cosmetic in nature, the use of dental bonding or porcelain veneers may be considered. For more severe tooth erosion, the best option for care is generally the use of a dental restoration, such as an inlay, an onlay, or a dental crown.
During your consultation with your dentist, you will learn which kind of treatment is right for you, restoring the appearance as well as the strength of your smile in the process.
Prevention Tips for Fight Tooth Erosion
In order to prevent tooth erosion, the following tips are helpful:
Drink water to stay hydrated and keep you mouth's pH balanced
Minimize your consumption of soft drinks and alcoholic beverages
Use a straw when drinking so harmful liquids bypass the teeth
Wait at least one hour after eating acidic foods to brush your teeth
Use a fluoride toothpaste to strengthen tooth structure
Visit your dentist twice a year for regular checkups
Schedule a Consultation at Feather Touch Dental Care
For more information about your options for advanced dental care, it's important that you contact our cosmetic and restorative dentistry center today. The team at Feather Touch Dental Care looks forward to your visit and helping you achieve a smile that is healthy and beautiful as well.
Posted on behalf of Feather Touch Dental Care
1175 Peachtree St NE Ste 1204, Building 100
Atlanta GA 30361
Tel: