Welcome to the Age of Advanced Dental Imaging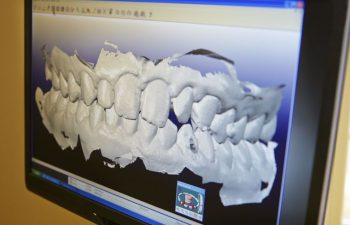 Traditional dental exams and treatment typically involve a lot of time spent in the chair. You may also experience discomfort during some of the techniques used. For instance, most patients do not enjoy the process of having teeth impressions created. Lying with your mouth open while a dentist examines each individual tooth is not pleasant, either.
Using 3D technology, these processes and more are completed in minutes. The TRIOS3 Intraoral Scanner is minimally invasive and can create images of the upper and lower jaw. Benefits include precision, efficiency and improved results. Your dentist can use the resulting images to guide several treatments including restorations and orthodontics.
Reduced Time, Increased Comfort
For many dental patients, visiting the dentist creates feelings of dread, panic and anxiety. This type of phobia can impact oral health, due to reluctance to receive treatment or attend checkups. Once you experience the difference with the TRIOS3 Intraoral Scanner, you may feel all those concerns drain away.
While digital dental imaging is not a magical cure for dental phobia, it does reduce examination and treatment times. You will also feel more comfortable due to the minimally invasive nature of the technology. At Feather Touch Dental Care, we also use TRIOS3 Intraoral Scanner to educate and engage patients with their own oral health.
Precision Restorations & Cosmetic Dentistry
Precision dentistry offers patients better outcomes. Traditional impressions take time, are uncomfortable and there is a waiting period for the lab to receive models. With the TRIOS3 Intraoral Scanner, impressions take minutes and are instantly sent to the lab via electronic channels.
Better restorations mean healthier and longer lasting teeth. We aim to preserve structures, while using materials that closely match natural tooth color and shape. This technology is also helpful in measuring for aligners and tracking the progress of orthodontic treatments.
Dental Imaging Consultation, Atlanta
If you would like to experience the future of dentistry, pay a visit to Feather Touch Dental Care. In the meantime, why not take a look at the information on our Dental Technology Page? We provide education and videos that demonstrate the superior performance of our state-of-the-art equipment.
Posted on behalf of Feather Touch Dental Care
Posted on behalf of Feather Touch Dental Care
1175 Peachtree St NE Ste 1204, Building 100
Atlanta GA 30361
Tel: