What Causes Dry Mouth and How Can It Be Treated?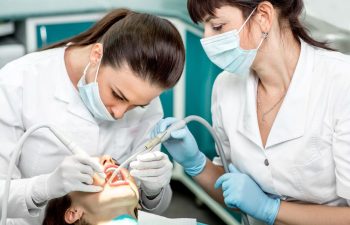 At Feather Touch Dental Care, we serve the greater Atlanta and offer the latest in advanced restorative dentistry treatments. This includes procedures for problems great and small, from tooth decay to dry mouth. In fact, dry mouth can be a more serious issue than you think.
About Dry Mouth
Dry mouth refers to the lack of saliva production in the mouth. When your salivary glands do not produce enough saliva, the lack of moisture can cause your mouth to feel sticky and uncomfortable. This can lead to issues with speaking and eating, and it can also be the sign of a serious general wellness issue.
Common Causes of Dry Mouth
Some of the most common causes of dry mouth include:
Nervousness/anxiety – When you are anxious or nervous, it's not uncommon for your mouth to dry out.
Alcoholic beverages – Alcoholic beverages are known to cause dry mouth to occur.
Tobacco products – Tobacco products can either lead to dry mouth or make dry mouth more likely.
Medication side effects – A number of medications can cause people to experience dry mouth as a side effect of regular use.
Blocked salivary glands – A number of different conditions can lead to blockages of the salivary glands, preventing saliva to be present in the mouth.
Dehydration – If you're not staying hydrated through the day, that can make dry mouth more likely.
Natural aging process – As people get older, it's not uncommon for them to experience reduced saliva production.
Why Dry Mouth Should Be Taken Seriously
If you suffer from persistent dry mouth, you may find it difficult to eat, resulting in a number of nutritional deficiencies and other issues related to having a balanced diet.
As noted above, a number of conditions can cause blockages of salivary glands. This includes serious oral health problems such as oral cancer.
By getting dry mouth addressed as soon as possible, you can have minor and major problems dealt with without any long-term wellness issues.
Treating Dry Mouth Through Dental Care
Many dentists will recommend the use of artificial saliva products to address dry mouth, including the use of special sprays, gels, and lozenges that help create more moisture in the mouth.
For minor blockages of the salivary glands, a dentist may recommend that patients suck on a sour candy of some kind. This will prompt the creation of saliva and help push out the obstruction and unblock the salivary glands.
Getting Medical Treatments for Dry Mouth
If your dry mouth is related to serious medial problems of some kind, you will need to undergo a professional medical treatment to have these matters properly and fully addressed. That's why it's important to discuss issues such as dry mouth with your dentist and general practitioner.
Tips for Preventing Dry Mouth
In order to prevent dry mouth, we recommend that patients avoid the use of tobacco products, be mindful of potential dry mouth when imbibing alcoholic beverages, and to drink water throughout the day to stay well-hydrated.
Schedule a Consultation at Feather Touch Dental Care
For more information about dry mouth and how our team can help you, be sure to contact our cosmetic and restorative dentistry center today. The entire team here at Feather Touch Dental Care looks forward to your visit and helping you achieve excellent dental health and wellness.
Posted on behalf of Feather Touch Dental Care
1175 Peachtree St NE Ste 1204, Building 100
Atlanta GA 30361
Tel: