Why is Flossing So Important?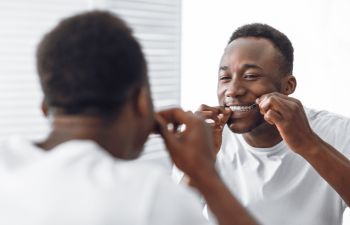 It is critical to incorporate flossing once daily in your dental hygiene regimen to reduce the likelihood of cavities and gum disease and save you money. Periodontal disease and cavities can result in costly dental appointments. The more proactive you are in prevention, the fewer troubles you will have to deal with when planned cleanings come around.
How Often Should You Floss?
Use floss or another interdental cleanser once daily, as recommended by the American Dental Association. You can avoid cavities and gum disease by cleaning the spaces between your teeth.
Cleaning between your teeth aids in the removal of a sticky film known as plaque. Removing plaque from your teeth is essential because it contains germs that thrive on decaying food particles and sugar left behind after eating. The result is acid production, which can erode the tooth enamel and lead to cavities.
Tartar is the tough substance that forms when plaque is not eliminated by brushing and cleaning between the teeth. If you have gum disease, it is likely because tartar has built up along your gum line. Only a dentist can get rid of tartar once it has formed.
Do You Need to Floss Before or After Brushing?
Keeping your teeth clean is a must, but the most crucial part is doing it. It does not matter when, so long as you finish the job correctly.
Time your dental care routine for when you can spare a few minutes. Those who are too worn out to clean their teeth at night may find it more convenient to do so first thing in the morning or after lunch. Others prefer clean teeth before bed.
Do Kids Need to Floss, Too?
Remember that kids need to floss in between their teeth, too! Initiate when you see your child's first two teeth coming together. Due to a lack of manual dexterity, most children cannot effectively clean between their teeth until they are around 10 or 11, so you must help them.
Is Flossing Painful?
Remember that flossing your teeth should not hurt.
Too much force could damage the tissue between your teeth. However, be careful not to be too mild because the food might not come out. While initial apprehension is to be expected, pushing through it is essential. You should feel much better within a week or two of starting regular brushing and flossing. See a Feather Touch dentist if the pain persists.
At Feather Touch Dental Care, we can teach you how to floss correctly. Contact us to schedule an appointment today.
Posted on Behalf of Feather Touch Dental Care
Posted on behalf of Feather Touch Dental Care
1175 Peachtree St NE Ste 1204, Building 100
Atlanta GA 30361
Tel: